Students project, realised in the context of the Seminar "Interventions" by Martin Krenn, University of Applied Arts, Vienna, 2007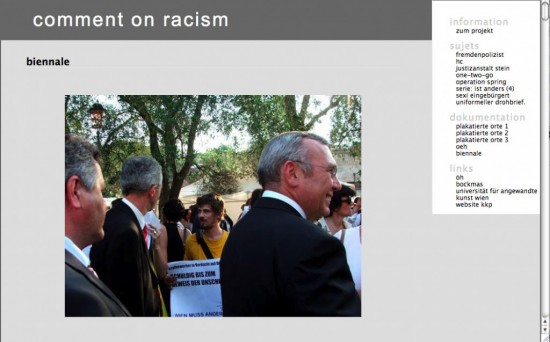 The poster campaign 'comment on racism' shall be understood as a statement on the political situation in Austria. A main aim is to appear in public against institutionalised racism and to show up deplorable states of affairs, concerning the governmental migration- and asylum policy, democratic deficiency, assaults by the police and not reflected media reports for that purposes.
The 11 posters were printed by the producers, in a run of 1000 pieces in the screenprint studio and will be distributed to interested persons to put them up and to spread them.The project was developed by students who took part in the Seminar "Interventions" at the University of Applied Arts/"Institut für Kunst und kommunikative Praxis" in Vienna.