Bill board object, exhibition Kunsthalle Exnergasse, Vienna 1997
In co-operation with Oliver Ressler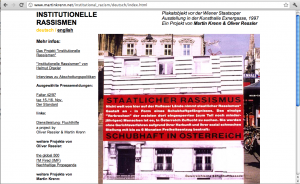 In order to bring institutional racisms (in the form of state regulated racisms) into the focus of public attention, a 3 x 3 x 3 m poster object was placed in the Viennese city centre in front of the State Opera from 14.10. – 27.11.1997. As this site is visited by numerous tourists, the poster object showed a sober text in German, English, and Italian, superimposed over a photographed house facade, about the Austrian practice of remand pending deportation.
Under the headline "Facts worth knowing about Austria" , the fourth side of the poster object informed in more detail about the practice of remand pending deportation in this country (also in three languages). The poster object was part of the project "Institutional Racisms" (Institutionelle Rassismen), which was continued as an exhibition in the Kunsthalle Exnergasse.
There is a video with leading officials from Austria and Germany, who Krenn and Ressler interviewed on remand pending deportation and other exclusion mechanisms. Information material from anti-racist publications was shown.