ON THE TECTONICS OF HISTORY
Exhibition Tour 2005 – 2009
Concept and realisation: Martin Krenn, Andrea Domesle & local curators
GRAZ, AUSTRIA
Forum Stadtpark
24.11.2005–15.01.2006
Curators: Andrea Domesle and Martin Krenn
Artists: Lisl Ponger, Peter Weibel, Hans Haacke, Gustav Metzger, Anja Salomonowitz, Monument für die Niederlage, Martin Krenn], Tim Sharp, Anna Kowalska, Pia Lanzinger, Joachim Seinfeld, Zdena Kolecková, Susanne Kriemann, Anna Konik, Arye Wachsmuth, Klub Zwei, Supporting Program: Peter Hauenschild/Georg Ritter, Wolfram Kastner
ÚSTÍ NAD LABEM, CZECH REPUBLIC
Faculty of Art and Design of Jan Evangelista
Purkyne University/Emil Filla Gallery
01.11.2006–15.12.2006
Curators: Andrea Domesle, Michal Kolecek, Martin Krenn
Artists: Rafani, Michaela Thelenová, Martin Krenn, Tim Sharp, Klub Zwei, Zdena Kolecková, Anna Konik, Anna Kowalska, Susanne Kriemann, Pia Lanzinger, Lisl Ponger, Joachim Seinfeld, Arye Wachsmuth, Peter Weibel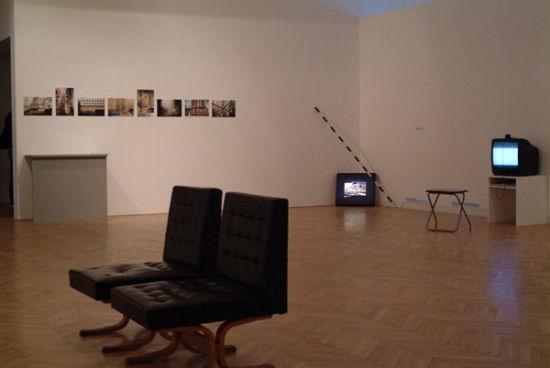 GDANSK, POLAND
WYSPA Institute of Art, Wyspa Progress Foundation
18.03.2007–29.04.2007
Curators: Andrea Domesle, Martin Krenn, Aneta Szylak
Artists: Piotr Uklanski, Grzegorz Klaman, Maciej Toporowicz, Artur Zmijewski, Robert Kusmirowski, Martin Krenn, Klub Zwei, Zdena Kolecková, Anna Konik, Anna Kowalska, Susanne Kriemann, Pia Lanzinger, Lisl Ponger, Joachim Seinfeld, Tim Sharp, Michaela Thelenová, Arye Wachsmuth, Peter Weibel
DRESDEN, GERMANY
Motorenhalle – Projektzentrum für zeitgenössische Kunst
19.09.2008–25.10.2008
Curators: Andrea Domesle, Frank Eckhardt, Martin Krenn
Artists: Jochen Gerz, Jochen Gerz and Esther Shalev-Gerz, Lutz Dammbeck, Klaus vom Bruch, Pat Binder, Rafał Jakubowicz, Rafani, David Adam, Martin Krenn, Naomi Tereza Salmon, Klub Zwei, Anna Konik, Anna Kowalska, Zdena Kolecková, Susanne Kriemann, Pia Lanzinger, Lisl Ponger, Joachim Seinfeld, Tim Sharp, Arye Wachsmuth, Peter Weibel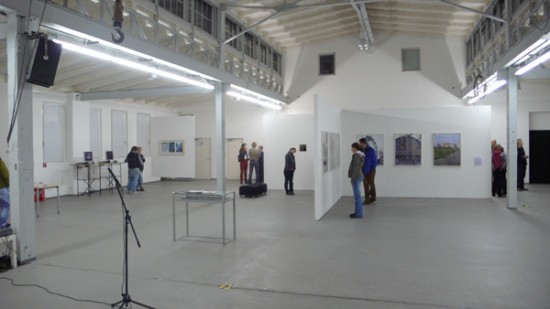 NEW YORK, USA
ISCP – International Studio & Curatorial Program
1040 Metropolitan Avenue | Brooklyn, NY 11211
Curators: Andrea Domesle and Martin Krenn,
Art critic and curator Matthias Reichelt selected the works of Boris Lurie
Exhibition Design: TOLEDOiDERTSCHEI
ON THE TECTONICS OF HISTORY
How and where can the influence of history be made tangible? Which intentions or political aims underlie the images that establish our interpretation of the past?
On the Tectonics of History exposes the historical traces of the Nazi era in the 1930s and 1940s. The show investigates the way in which imagery continues to shape our understanding of this regime, and subsequently reflects on how present day society deals with this time-period.
On the Tectonics of History presents contemporary works of art in the fields of photography, film and video. Often oscillating between conceptual and factual representation, the works enable us to produce meaning and, in turn, to formulate images of history that are not yet consistent within our society. According to Aleida and Jan Assmann, Professors of Archeology, documentary photography and film act as an image storage-bank for our collective memory. Since the 1930s, technological achievements have permitted a much broader use of these two media while allowing a steady increase of distribution.
History is represented and understood through images that can suggest illusory authenticity. Pictures of historical places, people and events have been reproduced scrutinized in schoolbooks, television documentaries, historical museums and magazines. Not infrequently, propaganda and perpetrator photos of the Nazis have been referenced as "image evidence" without ever questioning their history of origin. Contrary to this, most of the exhibited artists aim to understand the original documents as tools enabling us to construct history. In doing so, their work is grounded in historical fact on one hand, and on the other hand, concerned with revising the images of history communicated by photography, video and film.
On the Tectonics of History is a travelling exhibition that makes its last stop at ISCP. The exhibition gathers a selection from the four touring stations of the show selected by the curatorial team Domesle/Krenn. Following ISCP's format – a residency program for artists and curators – the final presentation at ISCP Gallery reflects the curatorial concept of On the Tectonics of History and should be considered a conclusion and reflection of the touring experience. Reproductions of artworks shown during the exhibition's tour are juxtaposed with printed works by Boris Lurie, one of the founders of the NO!art movement during the 1960s in New York. Additionally, the exhibition presents an archive featuring the entire collection of video works included in all phases of the exhibition.
During the tour the selection of works and artistic positions changed continually according to the location and site-specific matters. For each venue Andrea Domesle (GER) and Martin Krenn (A) collaborated with curators, Michal Koleček (CZ), Aneta Szylak (PL) and Frank Eckhardt (GER), directors of the previous venues.
Art critic and curator Matthias Reichelt (GER) selected the works of Boris Lurie for the ISCP station
The ISCP station is supported by Consulate General of the Republic of Germany, NYC and Austrian Cultural Forum, NYC